Formerly Warren Cider Works. Same owner. Same cider! 
98 Child Street, Warren, RI. Tasting Room Hours: Thursday, Friday, Saturday 2-8 PM & Sunday 12-5 PM
Our Current Cider Line-up as of February 7, 2020. All of our ciders are available for tasting–$10.00 for a tasting of four current varieties–by the glass and by the individual bottle. 
Hudson's Golden Gem No. 79 $16.00 per bottle. Orchard Blend No. 91 $17.00 per bottle. Rhode Island Greening No. 97 $18.00 per bottle. Harrison No. 94 $20 per bottle.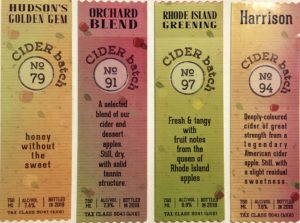 Visit our tasting room and take a seat at our antique bar or relax with a group at one of our tables. Our ciders are NEVER pump filtered or force carbonated with NO added sulfites or added sugars. Our slow pressed juice and small batch fermentation produces superior craft cider. And we grow all the apples and that's the honest apple!